LiveFace is a photo-editing program that helps you to create animated picture with your still photos. With simple touch, using various motion tools, you can create fun, exciting animations. LiveFace allows you to save as GIF, MP4, SWF, and JPG or share them through e-mails and SNS.
FEATURES:
★ Fun Booth
– Simple and easy editing mode for LiveFace beginners.
– First, Choose a photo, and setup the positions of face, eyes, mouth, then it will create animated picture from predefined templates.
★ Studio
– Advanced editing mode for every features in LiveFace
– Create motions anywhere by using direct touch tool, and 12 different masks tool
– Create animation sequence with Scene Tool.
★ Gallery
– Save animated image in the gallery, and re-edit if needed.
– Galley is your personal movie theater, so watch and enjoy your saved animations anytime, anywhere. It will play up to nine animations at same time!
★ Export
– Animations can be saved as GIF, MP4, JPG, and SWF.
– Save the animations in your photo album, or share through e-mail, YouTube, Facebook, Twitter and WIFI transfer. (Support methods can be varied by file formats)
– Open Instagram with a funny face JPG.
★ My TV
– Set your LiveFace screen with your animated picture.
– You can enjoy the animation every time you start LiveFace!
LiveFace is NOT one of those complicated, difficult editing program.
It is Fun and easy entertainment for everyone, so have FUN with it!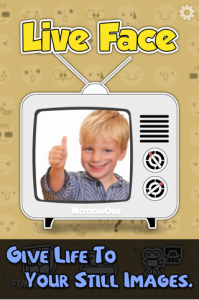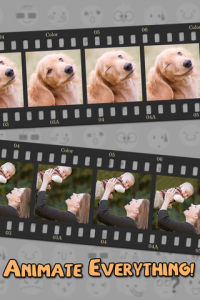 What's New in Version 1.0.3
– optimize face detection in iOS5.
– minor bug fix.