With PhotoShake, you can easily combine one or more photos to make exciting and fun new images. PhotoShake is a photo editing program that you can use to share photos with family and friends on social networking sites.
PhotoShake allows user to create images from various occasions like everyday life, memorable moments, social gatherings, photo that has a story. Make a precious memory with family, friends, or others.
Share your beautiful memories and fun episodes with your friends. Joy and happiness start from your touch.

Requirements: Compatible with iPhone and iPod touch. Requires iOS 3.0 or later.
Category: Photography
Current Version: 2.6.1
Size: 13.5MB
Languages: English, Korean
Overall, PhotoShake provides an easy way to create quick collages of your photos and either save them or share them quickly on popular social Web sites.

Create a professional photo image with 6 different themes!
Photoshake offers various themes that allow you to create one single image from many of your favorite photos.
SinglePhoto Just for you

Apply various styles(effects) on a single photo to create a unique image.

MultiPhoto For magical photo editing

Turn multiple photos magically into one single picture.

WidePhoto For fun image

Create wide image in vertical/Horizontal. It's suitable theme for creating cartoon or recipes.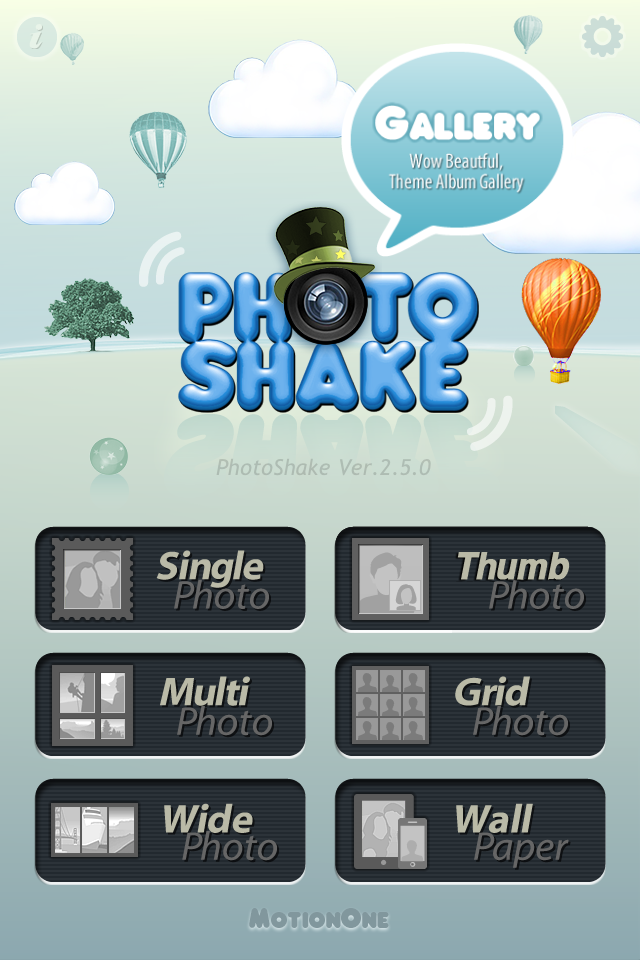 ThumbPhoto For capturing beautiful moments

Make PIP (Picture-In-Picture) style photo.

GridPhoto From multiple photos into one single image

Maximum 30 photos automatically arrange into one single image in tile style.

WallPaper For Apple mobile devices

Create wallpaper of capable resolution for iPad, iPhone 3, iPhone 4, and iPod touch.
Create fun photos with Photoshake
Using various importing methods, you can load multiple photos and simply shake iPhone to create a fun picture.
Save and share them on social media or create more fun photos with photoshake editing tool.
Frame EditingFrame Editing

Create a unique frame using handler, pinking, or pattern tools.

Photo EditingPhoto Editing

Adjust positions and give various effects on each photo.

Balloon EditingBalloon Editing

Add various storytelling balloon in picture.

Sticker EditingSticker Editing

Create fun photos using various stickers.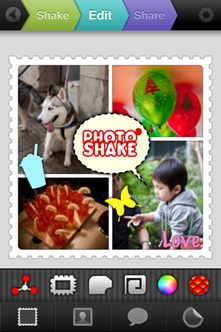 PatternFrame Pattern

Create special frames with 300 different patterns.

HandlerMove Handler

Create unique frame edge using handler.

PinkingFrame Pinking

Apply pinking effect on frame.

EffectPhoto Effects

Black/white, sepia, auto-adjustment, antique, poster, and color filter effect.
Manage and share your edited pictures in Theme gallery...
Your personal gallery allows you to save, edit more pictures and easily share them with family, friends and others.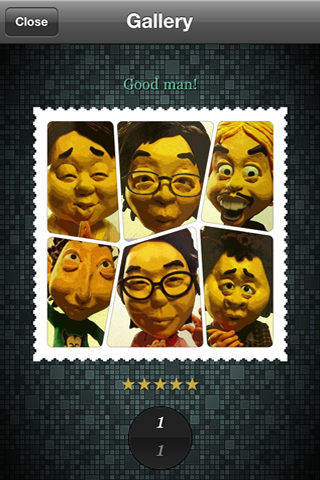 Theme Gallery Theme Gallery

Save and import edited images from Theme gallery.

Especially with amazing editing tool, you can import images anytime for continuous editing until you have satisfying result.
Simply follow the tutorial available in 6 different themes.

Have fun designing the theme gallery in your own style!

Share & EditingShare & Editing

Not only you can edit images in photo editing mode but also easily edit and share them from theme gallery as well. To find a photo, simply view the album list in the gallery.
Photo Info Photo Info

Give titles or give rates to characterize each photo.
Theme, picture number, frame type, picture quality, pinking type, and date info available for photoshake users.